Pilates
Ridge Physical Therapy is the only facility in Paradise that offers Pilates for patients taught by Certified Pilates Instructors.
What is Pilates?
Pilates is a method of exercise and physical movement designed to stretch, strengthen and balance the body. It is an innovative system connecting the mind and body that was developed from the principles of German-born Joseph Pilates. He came  to the United States in 1926 and started working with ballet dancers in New York.  Over the years Pilates has become popular in the world of exercise.
Pilates provides numerous benefits including  improved coordination, relaxation, improved posture and balance, increased lung capacity and circulation through deep breathing. It also focuses on strength and flexibility, particularly in the back, stomach, hips and buttock muscles.  Bone density and joint health can improve, and many people experience positive body awareness for the first time ever.
Why is it used in Physical Therapy treatment?
Pilates performed in the rehabilitation setting is very different from that in a gym setting or seen on a video. Our emphasis is to teach safe exercise while focusing on the coordination of breathing, maintaining the correct spinal alignment, postural elongation, relaxation and reducing overuse of extraneous muscles. With its low impact exercises and emphasis on the abdominal area, patients can work around injuries and physical limitations and prevent injuries from occurring in the future.
This type of exercise may be used as an addition to treatment for a wide variety of medical conditions, including but not limited to patients with osteoporosis or osteopenia (visit our osteoporosis page), chronic back or neck pain stemming from degenerative disc or joint disease, stenosis, spondylolysthesis, scoliosis, post surgical procedures, fibromyalgia, pre or post-natal pain, neurological conditions such as MS or Parkinson's disease, generalized weakness or general balance problems.
Pilates allows our patients to return to safe and gentle exercise and gain confidence in knowing they won't get injured. It has been an wonderful addition to our physical therapy practice.
Is there risk of injury when performing Pilates exercises?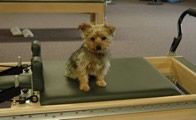 Yes, if it is not performed properly.  One must learn about the concepts of Pilates to be able to do the exercise without injury. Our Certified Pilates instructors work individually with each patient teaching exercise on the mat and/or with the specialized Pilates equipment, to progress each person to maximum function.  We closely monitor each person's response to the exercises and modify the exercises as needed to meet the needs of each individual.  This doesn't happen at the local gym.
Our motto is  "If it's painful, it's not Pilates".
See our Links page for more information on Pilates and its benefits.