Testimonials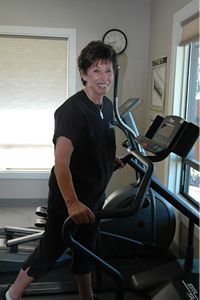 I seem to have been on one diet or another throughout my whole life... down 20 pounds, up 30 pounds, etc.
I finally "Got It". Diets don't work! A new life style does. I needed to change the way I thought about food, but I also needed to exercise. But where could I do that? I certainly couldn't go to a regular gym and work out next to all those beautiful young "things" in their designer work out clothes!
Then I found Ridge Physical Therapy & Wellness Center... at last, a place where people of all ages, sizes and abilities worked out safely, without embarrassment because of size or physical ability--or, in my case, Dis-ability. Ridge PT has the equipment I need, a warm and welcoming atmosphere, and total acceptance. Plus, I feel safe having physical therapists and qualified exercise instructors (Certified Fitness Trainers) always around to help or advise.
I've lost 58 pounds and went from size 18-20 to 10-12. I have new eating habits and most of all, I look forward to going to the gym everyday. All this without the high cost of a regular gym! I've finally found my niche. I'm healthier and happier than I've ever been, thanks to Ridge Physical
Therapy & Wellness Center and the new friends I've made there.
Hope M.
Note: Hope was a physician-referred patient to physical therapy who progressed well in her rehabilitation program at Ridge Physical Therapy & Wellness Center. Once she met her goals, she was discharged from physical therapy and chose to join our popular After-Care Wellness program.
We are so very proud of Hope's commitment to fitness and good health!
---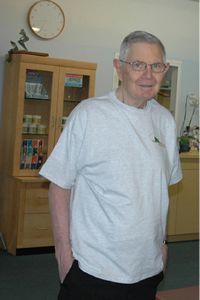 What a difference a year at Ridge Physical Therapy makes! When I came to Ridge, I was weak and debilitated, suffering from balance problems, chronic neck pain. I had difficulty walking or getting out of a chair and had been diagnosed with Parkinson's disease. I was feeling quite discouraged and uncertain about my future.
From my first visit, the staff could not have been more encouraging and supportive. They treated my neck pain using a wonderful form of massage called Myofascial Release, along with other modalities. Soon I was able to move my neck freely and sleep comfortably, without painkillers. More importantly, I learned that I could manage my Parkinson's symptoms by means of a daily exercise regimen, using the equipment and expertise available through the Ridge Aftercare Program.
After a year of daily workouts, my progress amounts to a transformation. Today, my strength has improved a hundred-fold. I now regularly complete more than an hour on the rowing machine. My balance and flexibility have improved dramatically and I am stronger than I dreamed possible. I feel more optimistic too. My exercise regimen has given me a measure of control over my condition that no medication alone could have provided.
Also, there is a special camaraderie among the fellow members that lends perspective and makes the workouts go easier and faster. When I need inspiration, for instance, I have only to talk to a very fit 92 years old gentleman who urges me on with his remarkable example and sense of humor. He puts me to shame if I dare to complain!
John
---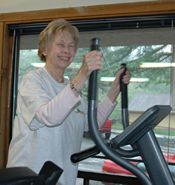 I feel that coming to Ridge Physical Therapy has changed my life for good. I came because of certain health problems which the therapists helped to improve. I also had problems with my balance and used a cane most of the time.
Trish Hopps, PT, CPI has her certification in Pilates for Rehabilitation and teaches Pilates classes. I took a Pilates mat class to see what it might do for me, and after that I decided to take private lessons with Trish, working on specialized Pilates equipment, which has helped me tremendously. My balance has become much better (in fact, I use my cane much less often now); my posture has improved, and my strength and stamina have gotten much better as well, along with a positive feeling of Well-being.
Joni N.
Joni came to us with numerous physical dysfunctions and pain issues. To see her transition from a person with limited mobility and chronic pain into a person who demonstrates vibrant enthusiasm in her daily activities has made my job so very rewarding.
Trish Hopps, PT / CPI
---
After 8 treatments I am feeling so much better and more motivated to do whatever I personally can do regarding optimal health. I did make the decision several years ago to try to avoid having surgery. I continue to want to do whatever is necessary to maintain that resolve. Your recent referral and the subsequent treatments by the excellent group of professionals at Ridge Physical Therapy & Wellness Center, continue to make this possible. Thanks again doctor.
Helen M.
---
What a great group of caring and capable people I got to experience. I looked forward to each and every visit. You provided a very loving and caring environment. I felt you listened and truly went above and beyond the call of duty to make sure I got back on my feet/exercise program-adding "Wellness Center" is what your program is all about! A special thanks to Pam--you're so dedicated and obviously love what you do. You are just delightful.
M.W.